SY32 by SWEET YEARS
HOME > Our Business > SY32 by SWEET YEARS
SWEET YEARS is an Italian casual wear brand, created by Christian Vieri and Paolo Maldini, two well-known international soccer players.
It celebrated its 10th opening anniversary in 2013. In order to develop the brand, a licensing agreement was concluded with Long Yong Japan's "Apparel Production Division": that was the birth of SY32.
This brand aims at a new position in the Japanese market, being a fusion of sports and fashion in your everyday life. It is not only influenced by soccer, but by sports in general.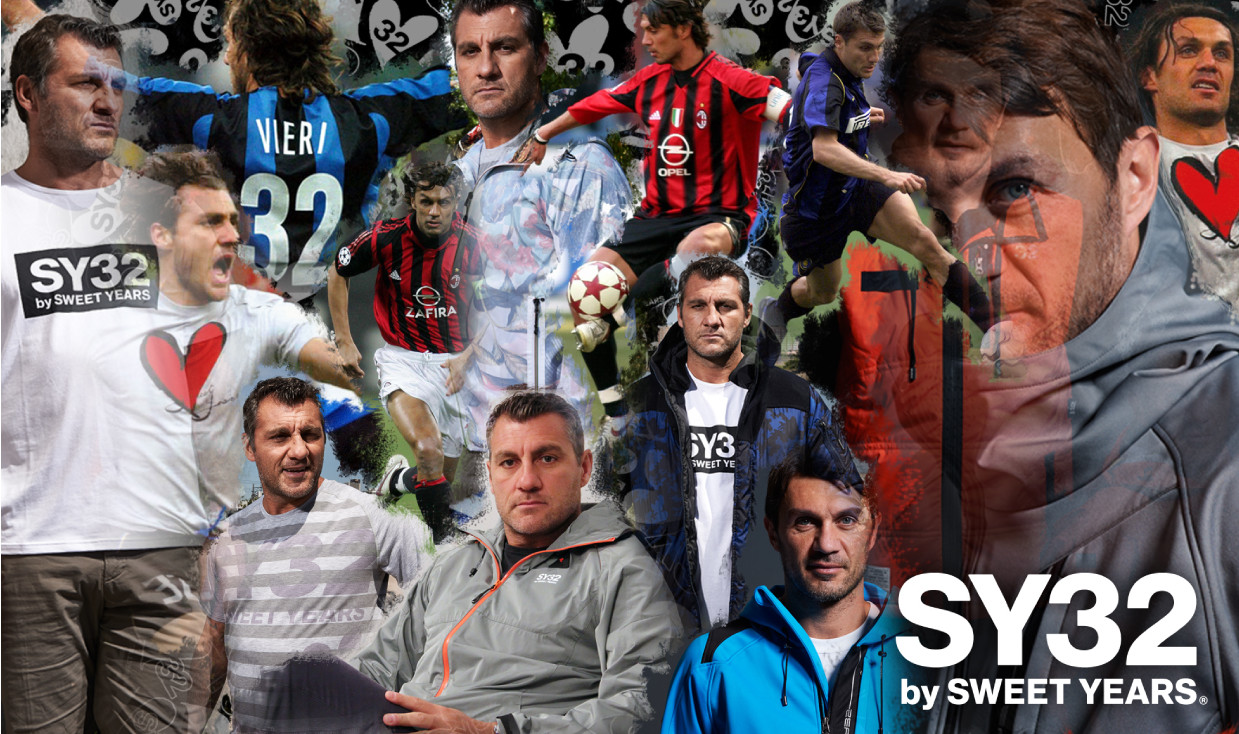 SY32 by SWEET YEARS Lineup
Brand Concept
The concept is to rebuild the image of sportswear and to see it from a fashionable point of view: adopting this brand spices up your life, with comfortable and stylish clothes.
The point is to design comfortable functional and trendy clothes.
It is a brand that promotes sportswear for both an active use and more casual clothing.
SY32 promotes high-quality clothing, thanks to a touch of Italy: a uniqueness and fashion no other casual brand possesses.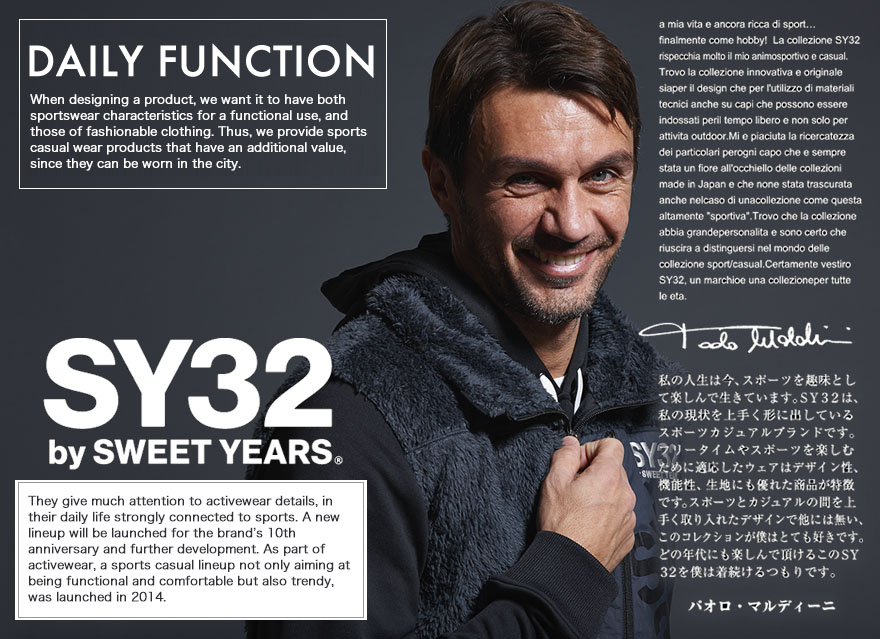 SY32 by SWEET YEARS Features
SY32 mixes the pride of Long Yong Japan, that is to say sportswear functionality, material and design, as well as the techniques and production capacity of our factories, to the background of the brand. But that's not all. It also offers creative casual wear, for customers to spend a nicer every day life, enjoying fashion.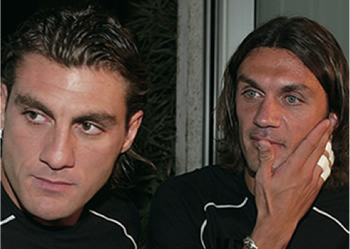 Support from Vieri, Maldini and Italy
Vieri and Maldini, both famous in Japan, entirely support the new SY32 lineup. These two worldwide stars take part in it, which gives global recognition to the brand. The brand is also highly supported by Italy.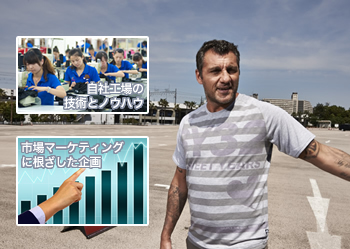 Technical strength + Functionality + Design
Being trendy and having a sharp design are a plus, even for functional sportswear.
The high level of marketing and techniques of a successful factory also matter.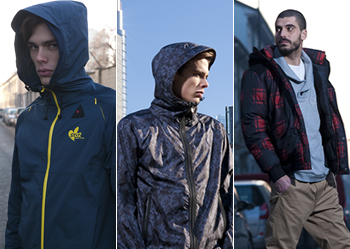 A new taste of sports casual wear
The idea is to renew sports casual wear with clothes that can be worn in the city while seeking the attractiveness and functionality of not only soccer clothes, but of all other sports.
Don't hesitate to contact the following wholesale vendors about SY32 by SWEET YEARS.
Why not selling this Italian sports casual wear, adopted by celebrities and athletes, that mixes both sports and fashion?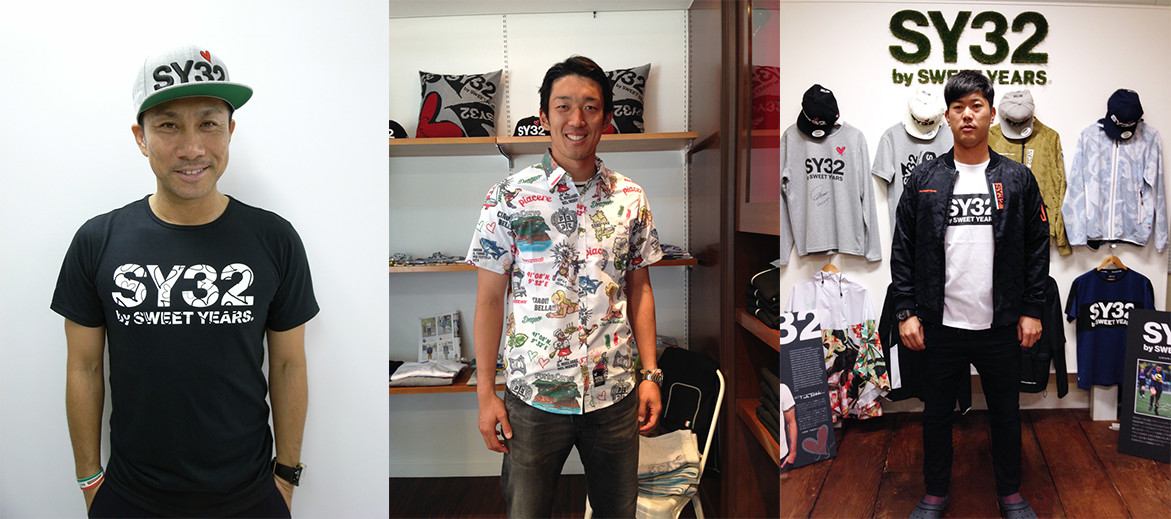 Special items can be ordered in small lots
For wholesale vendors looking for items mixing sports and fashion, and unique clothing that gives much attention to sportswear functionality and details.
In addition to wholesale products, we also actively produce special items, which is a specific feature of our factory.
The attractiveness of special items is their design, their lot and cost performance, by comparison with OEM products.
Companies interested in special items are welcome to contact us.
Please feel free to consult us.
Inquiry contact: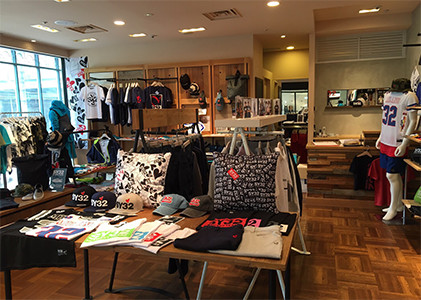 HF Naka-Meguro Bldg., 7F
4-6-1 Naka-Meguro, Meguro-ku, Tokyo, 153-0061 Japan
+81-3-6712-2191 (Contact person: Mikurino)

Please feel free to contact us!